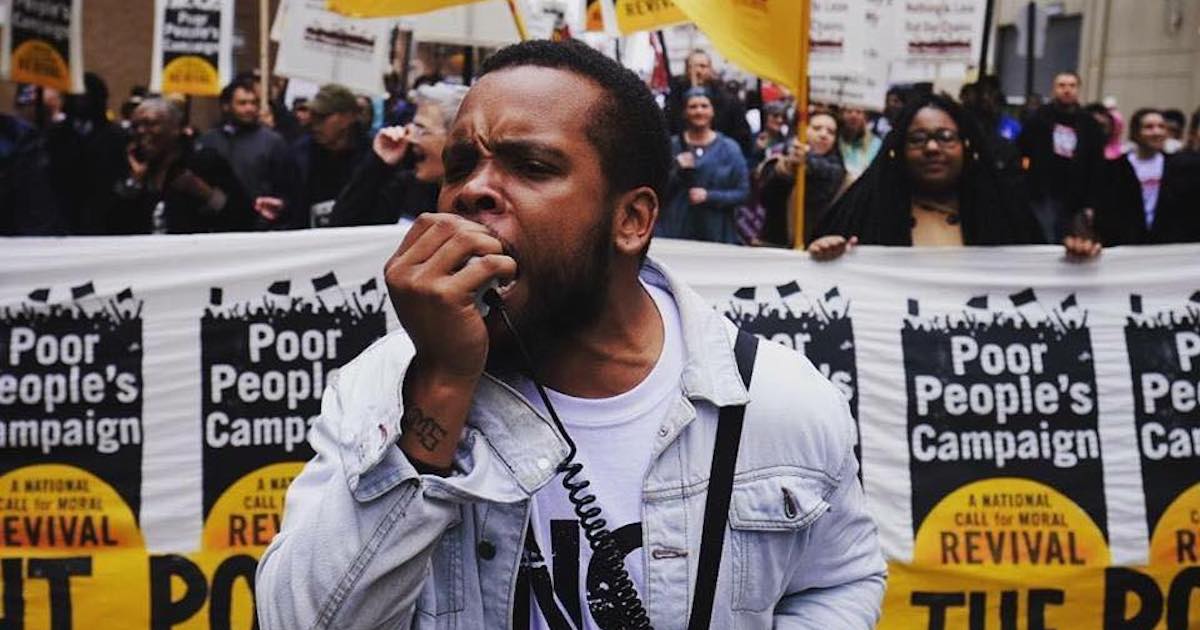 (Steve Pavey / Kentucky Poor People's Campaign)
Subscribe to the Belabored RSS feed here. Subscribe and rate on iTunes here or on Stitcher here. Check out the full Belabored archive here. Tweet at @dissentmag with #belabored to share your thoughts, or join the conversation on Facebook. Belabored is produced by Natasha Lewis.
Half a century after Dr. Martin Luther King, Jr. set out on a march to demand equality now, the poor are still marching. But they're no less impassioned and they come, as King once said, "to demand that the government address itself to the problem of poverty." We speak to Rev. Liz Theoharis, co-chair of the Poor People's campaign along with Rev. Dr William Barber. The longtime welfare rights organizer talked about why people are marching across the country for economic justice and "moral revival." They are making their political demands heard for the next several weeks but also hope to build power at the ballot box, in their workplaces, and in their communities.
We also look at labor rights on campus from the Emirates to the East Village, outrage at a gig economy worker's tragedy, and Minneapolis's Fight for 15. With recommended reading on turning the Heart of Dixie red, and the teacher revolt against austerity.
If you think our work is worth supporting as we soldier on through Trumplandia, please consider becoming a sustaining member of Belabored or donating or subscribing to Dissent. Help keep us going for the next 151 episodes!

News
Michelle: Minneapolis Raised the Minimum Wage, Now They Just Have to Get Employers to Pay It (The Nation)
Walking the Floor of the Great Minnesota Activist Factory (Splinter News)
Responsible Contractor Policy in Retail Cleaning (CTUL)
Sarah and Michelle: Thinking Outside the Box with CTUL (Dissent)
STRIKE'S ON: Student Workers Strike, Faculty Won't Cross Picket Lines (New School Free Press)
"Everybody Who Works Here Should Be Here": The New School Cafeteria Occupation (Verso)
Forced Labor Risk Persists at NYU Abu Dhabi, Report Finds (NYU Local)
Michelle: An NYU Professor Was Barred From Researching in the United Arab Emirates—Where NYU Has a Campus (The Nation)
After Caviar courier's death, what about gig workers' rights? (Philly.com)
Sparrow Cycling, a worker-owned co-op

Conversation, with Rev. Liz Theoharis
Poor People's Campaign: A National Call for Moral Revival
Get Ready for the Poor People's Campaign (The Nation)
Report: Souls of Poor Folk (Institute for Policy Studies)

Argh, I Wish I'd Written That!
Michelle: Gus Bova, Red State: Does Socialism Have a Future in Texas? (Texas Observer)
Sarah: Jane McAlevey, Teachers Are Leading the Revolt Against Austerity (The Nation)
The post Belabored Podcast #151: Empowering the Souls of Poor Folk, with Rev. Liz Theoharis appeared first on Dissent Magazine.
Source: Belabored